Lots happened this time.


First comes love, then comes mar--.. woohoo!?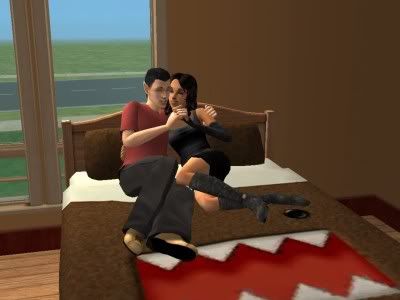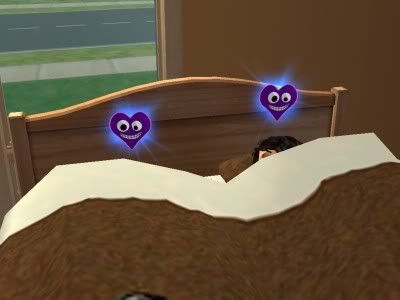 Yeah. Woohoo. Gotta get started on those heirs, ya know.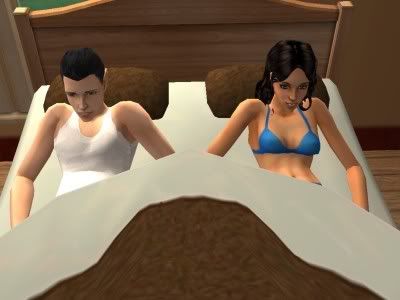 I have to say, as airheaded as she may be, Jelly is pretty smokin'.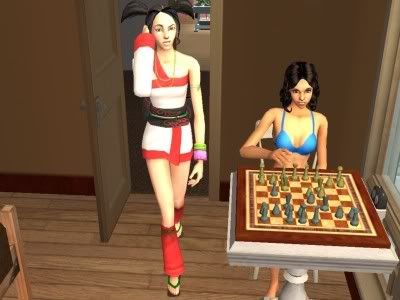 Roni and Jelly love to hang out. Great sister-in-laws. Great friends.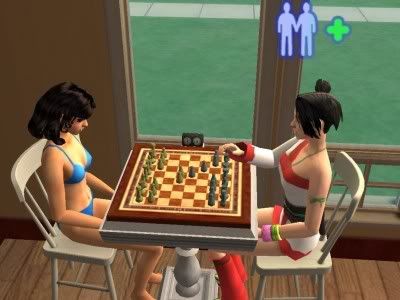 Jelly loves to paint, and sells $600+ portraits daily for a huge aspiration boost.
Pickles, on the other hand... well.. um.. this is his attempt at painting his true love. It's the thought that counts. Really.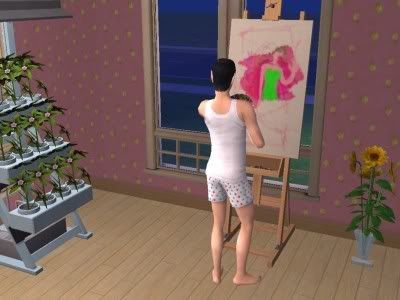 Pickles decides to seal the deal and propose as soon as he can.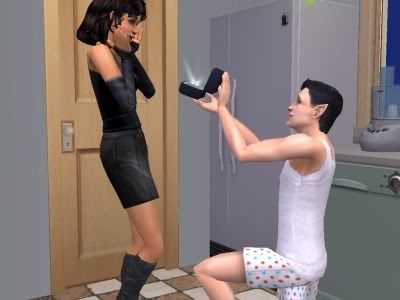 The reaction is expected. ;p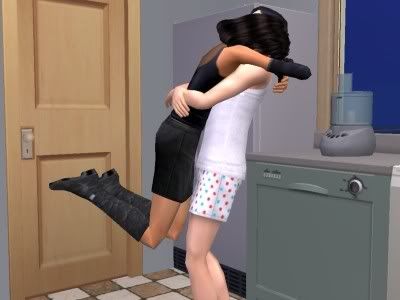 "Um, hey, great timing, 'cuz I'm.. ya know.. pregnant with your lovechild!"
"Oh really? Great! +++!"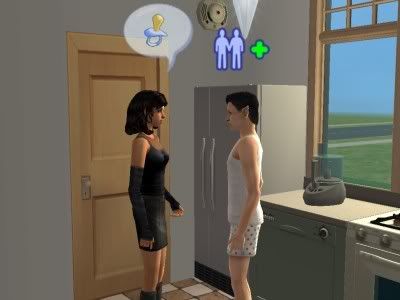 meanwhile, the maid is pissed off at Jetta about being a slob. >.>; Oops.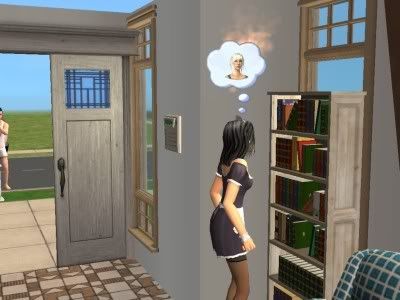 And~ the first of many puking pictures.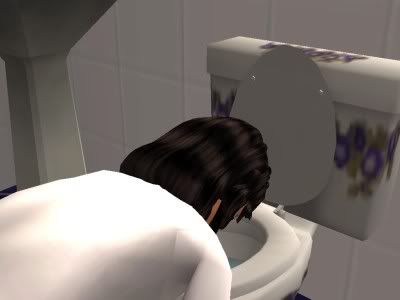 First belly pop of the generation!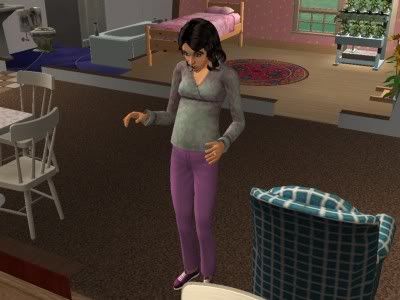 Jelly, meanwhile, has fallen in love with this young man, but has no desire for marriage, so the relationship doesn't last too long.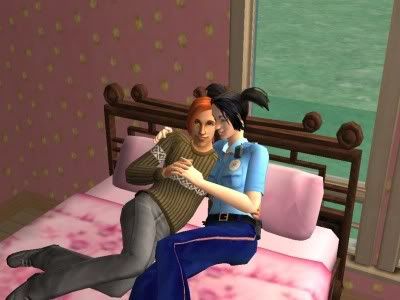 But it looks like her male friend left a little package in the oven. Oops~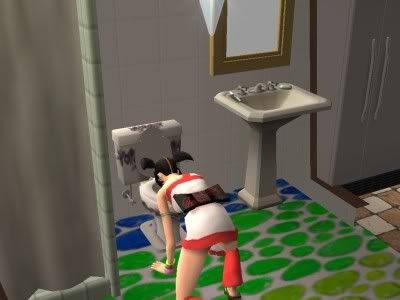 Roni really wanted a wedding party, so the family gathered quite happily to see the union.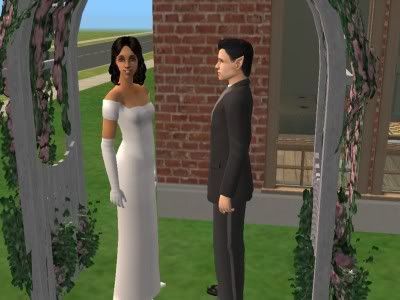 Veronica invited her mom, but not her younger half-brother Virgil, because she really isn't very close to him, even after all this time.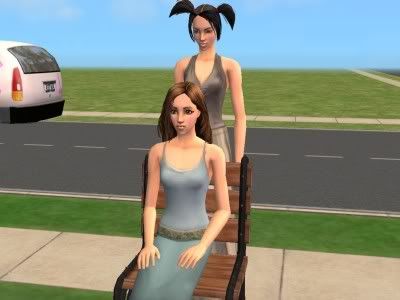 The twins' mom showed, of course. Jetta was still all about the fun times and parties, even in her old age. The maid stole her seat though, out of spite.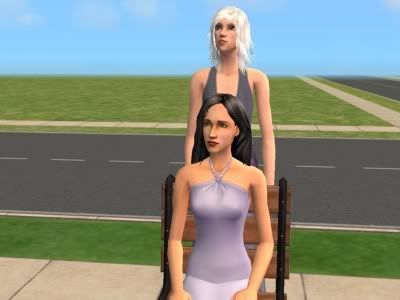 The couple looked so in love.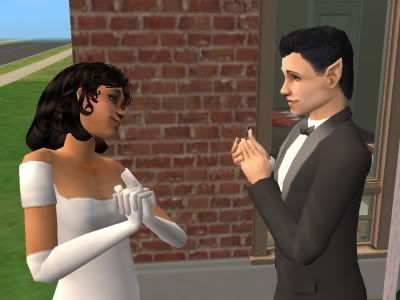 Jetta cheered until she was hoarse, quite pleased with her son's selection of wife.



Jelly cheered too, and danced around giddily, so happy for her twin.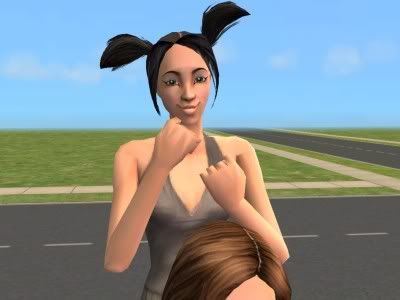 Roni just smiled. She was so happy, and felt so loved~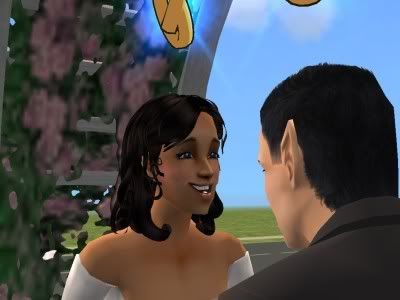 Pickles wouldn't stop saying how beautiful she looked, and Roni was uncharacteristically shy.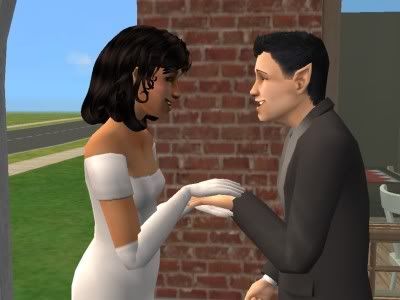 Roni's mom, Elizabeth, was so happy. She cried twice during the wedding, thinking about her lost love, Robi.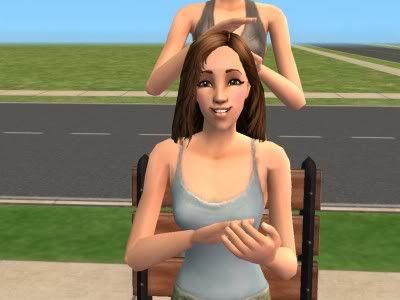 Mm.. Wedding cake!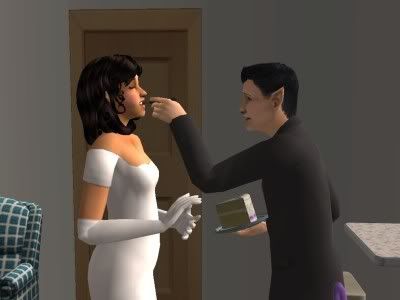 Veronica was afraid she might have twins, since her hubby was one...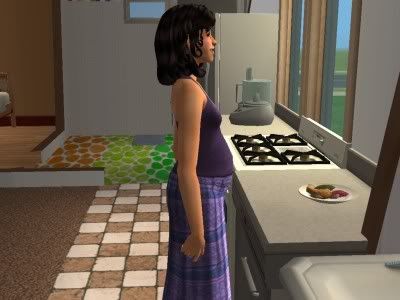 Jelly soon joined her in waddling about the house like a penguin, and she felt a bit better after that.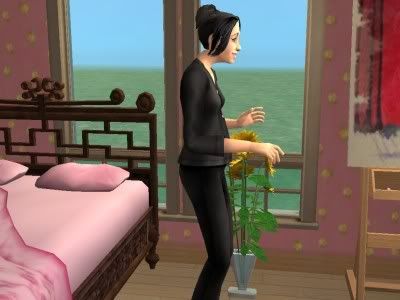 Well, until the labour pains kicked in, anyway...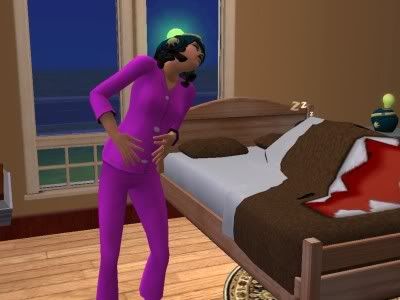 Meet little Osaka Lawless. Elizabeth's brown hair, and big blue eyes.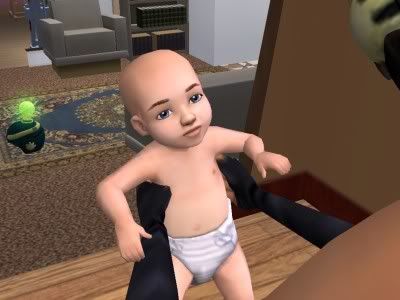 Now that the couple's baby was born, they doted on Jelly more, since she was alone and needed them even more.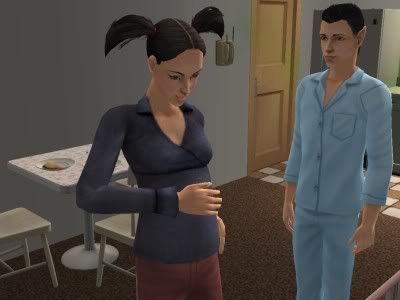 The house filled with baby furniture and toys, and Jelly's belly swelled with new life. She wasn't really sure what to think.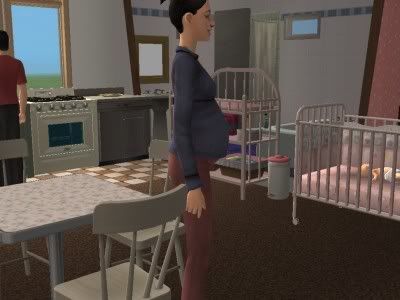 She was painting when labour hit, and the rest of the family came running at her screams.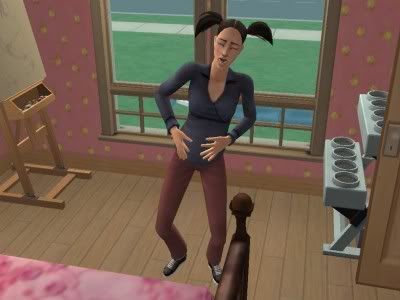 Meet Talim Lawless, a beautiful black haired, green eyed girl.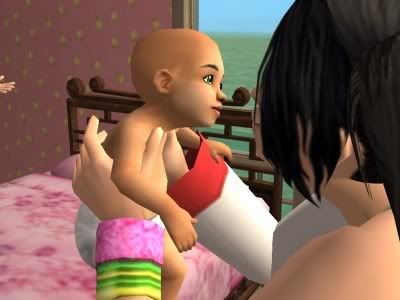 Pickles really wasn't sure how to handle the babies, and was often scolded by the women of the house.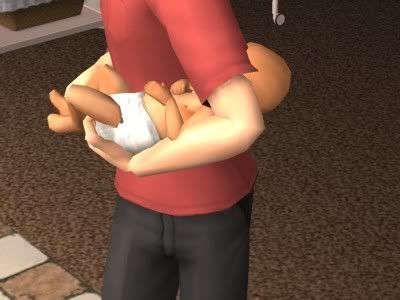 Veronica started feeling woozy shortly before the girls' birthdays... (She threw up 6 times in a row. o_o; )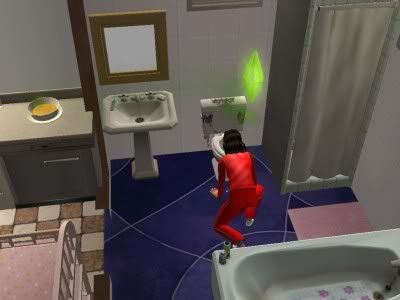 The family decided to throw one party for both of them, since money was a little tight.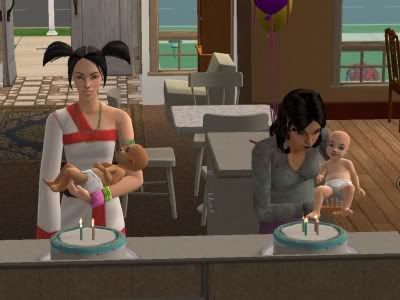 Osaka...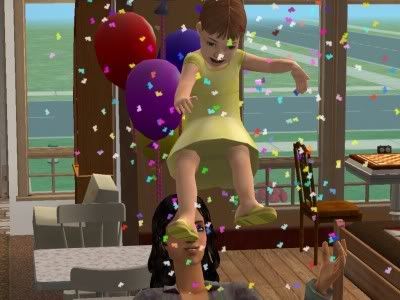 Then Talim.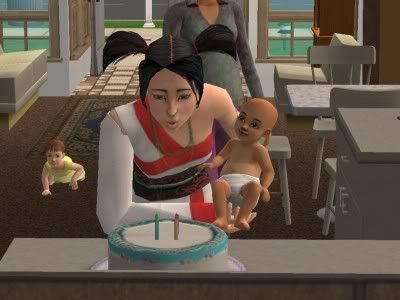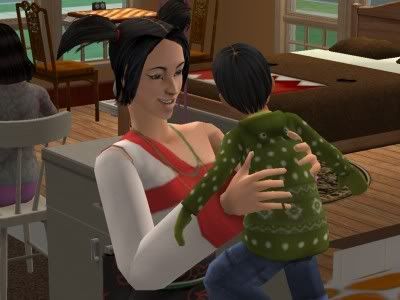 Osaka was a serious little girl, who loved to play with blocks and be read to by her daddy.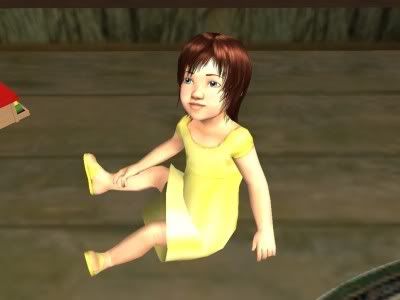 Talim was much more playful, preferring the noisy musical toys and talking pink bunny.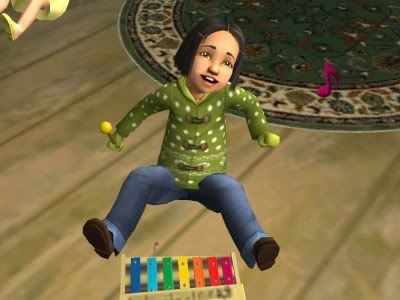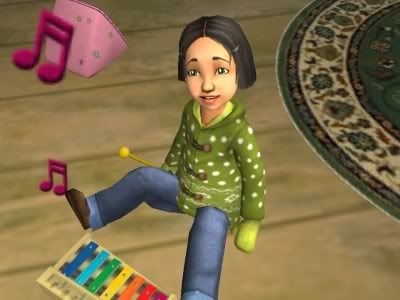 They were both very loved and so sweet, growing up as sisters in a house full of attention and love.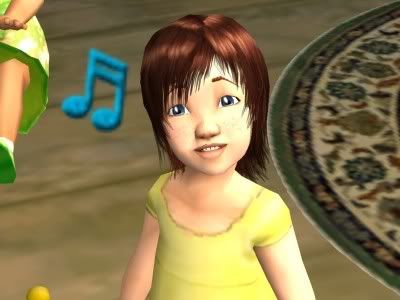 Pickles was, however, stressing about money, and hiding it well enough. He spent most afternoons in the pool, building his body skills for the harsh world of criminal activity. He had a tough bank robbery coming up, and it could mean living in ease for the rest of their lives if it was pulled off right.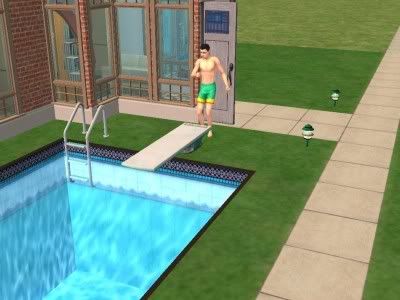 Roni surprisingly went into labour on the day the robbery went down. Jelly was excited to see Pickles home early through the windows.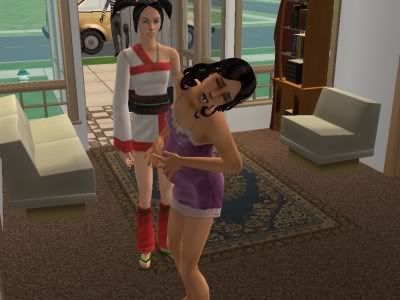 Pickles closed the car door quietly and ran in when Jelly called for him.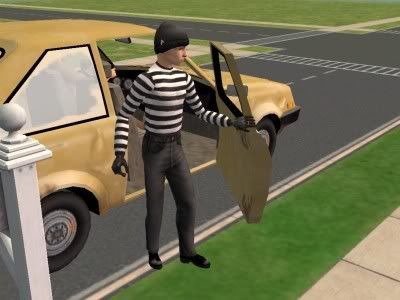 As he watched his wife about to give birth for a second time, it struck him. All the bills that needed paying, all the money needed. Three kids and three adults to feed. And to top it all off, he'd messed up and nearly gotten caught at the robbery, making it out with barely his skin.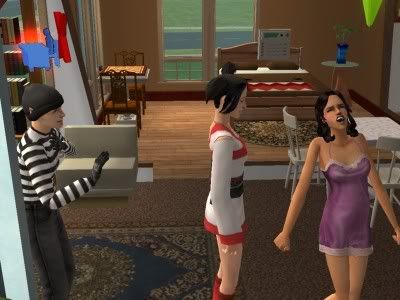 Jelly and Roni happily welcomed little Raquel to the family, as Pickles slipped off unnoticed.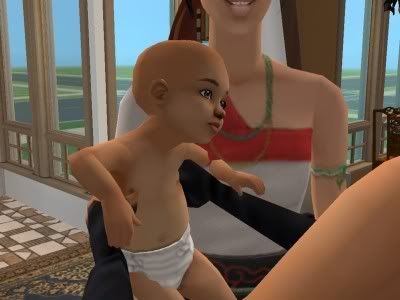 It was too much. He couldn't do it. He wasn't cut out to be a husband and father. Or even a good brother.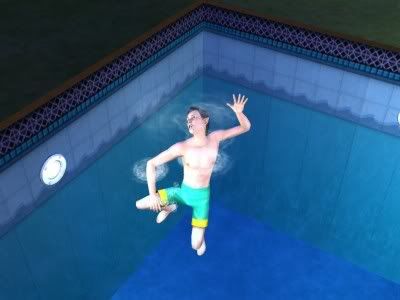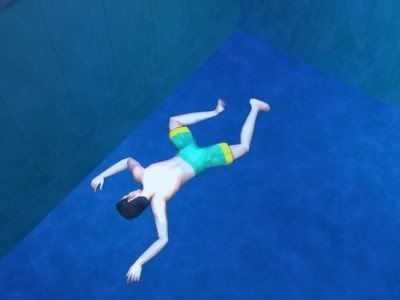 Jelly came out to find her brother, wondering why he wasn't inside with his family... and then she saw.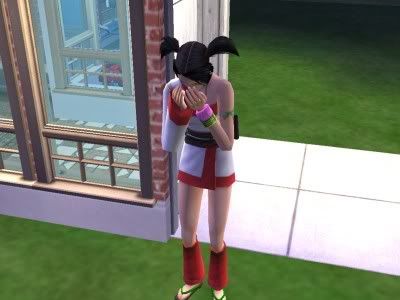 It was too late.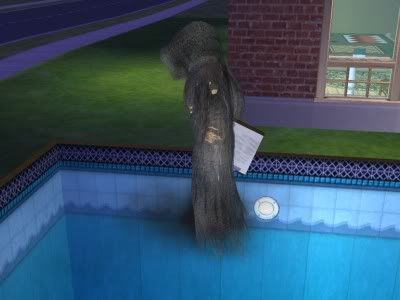 She ripped off her clothes and lunged for the pool, hoping to save her beloved twin.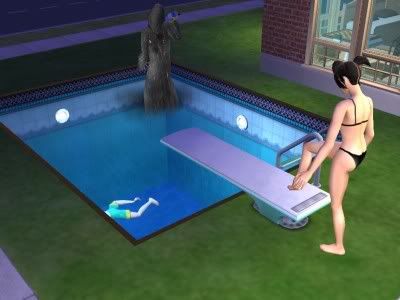 But it was over. She was too late.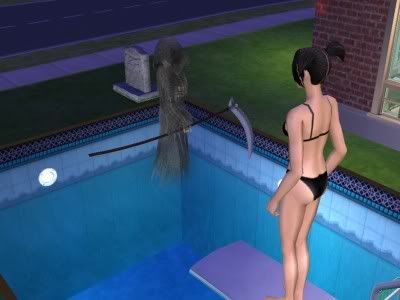 Why had he done it? Was it an accident? there were no signs if it wasn't... How could he?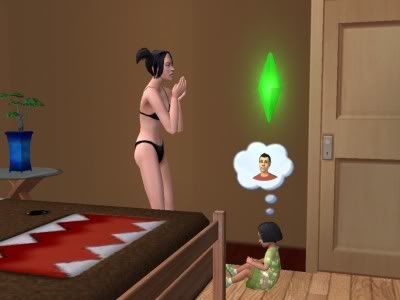 And now his family was left without him. His children would grow up without a father.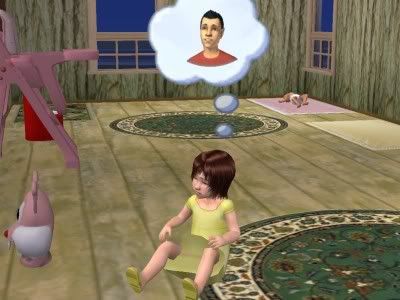 Roni was crushed at the loss of her love. What would she do now?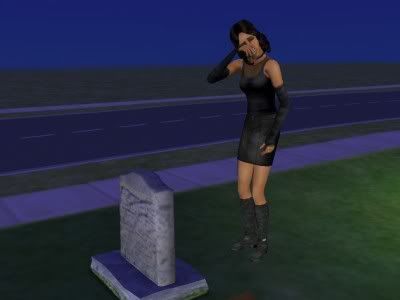 Osaka Lawless
Brown hair, blue eyes, pale skin
0 Neatness
8 Outgoing
8 Active
2 Playful
7 Nice

Talim Lawless
Black hair, green eyes, tan skin
3 Neatness
6 Outgoing
7 Active
8 Playful
7 Nice

Raquel Lawless
Brown hair, blue eyes, tan skin
10 Neatness
10 Outgoing
4 Active
3 Playful
8 Nice