Jetta Lawless
Pleasure sim
LTW - Professional Party Guest
Sloppy 4
Outgoing 6
Active 5
Playful 10
Mean 0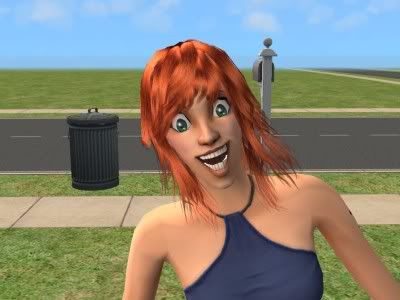 BOO!



Heh heh heh... Hey! Jetta Lawless is the name! Don't worry. I'm not scary. ...Really!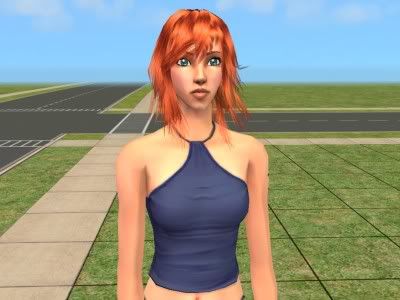 I'm a Taurus, and all I want is a life of pleasure, to be honest.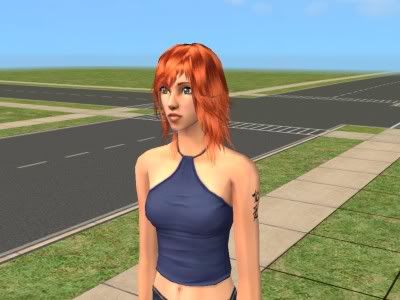 I'm a natural redhead, aren't you jealous? Neener neener neener~!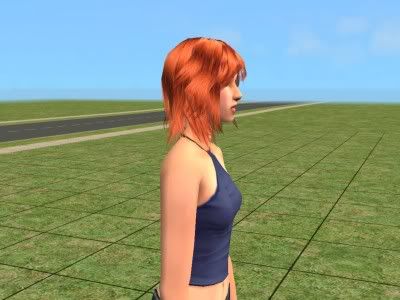 I also have some totally bitchin' tats on my arm and back and... never you mind.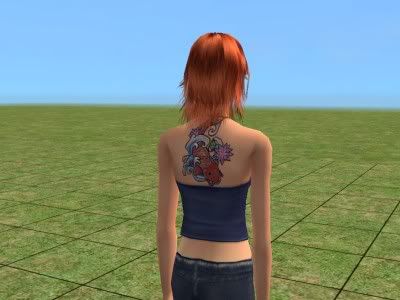 Here's my modest little home under the open stars. What the hell?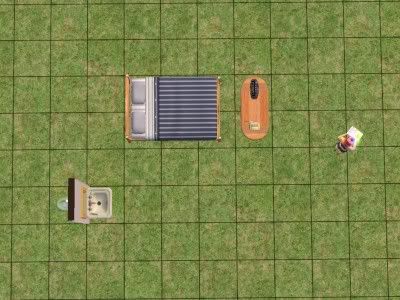 Know what I like? I like to... SMUSTLE!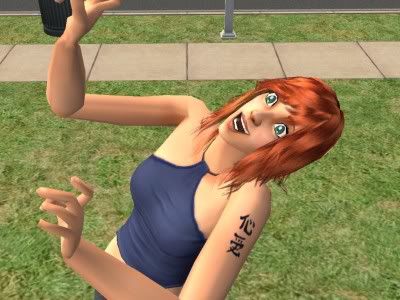 But to be honest... it isn't any fun alone.




So I called up this scary old hag, and she says she'll set me up with a blind date. Try getting one for yourself, sister.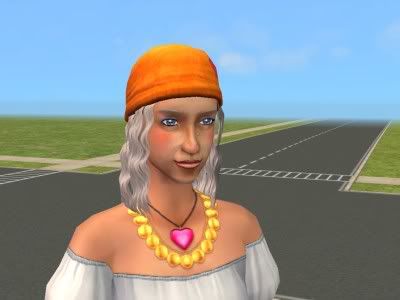 I'm all like "Cool." and forked over a hundred bucks, since that's all I had on me.The whole idea was pretty cool, I guess.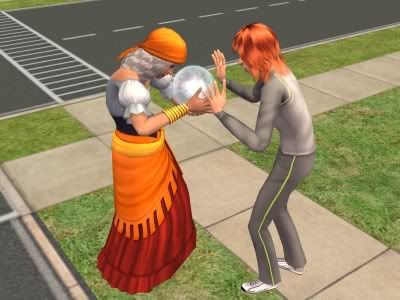 Anyway, she introduced me to this guy, Mitch. He's cool and all, but not really hot or anything. But he's fun, so We've been on a few dates.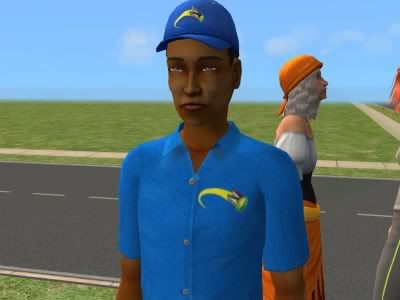 What I really like about him is... he's a delivery man for SimXpress, and sometimes he leaves me goodies that "fell" off the trucks! He knows I'm hot. Oh yeah~




So do I, really. Who wouldn't think so?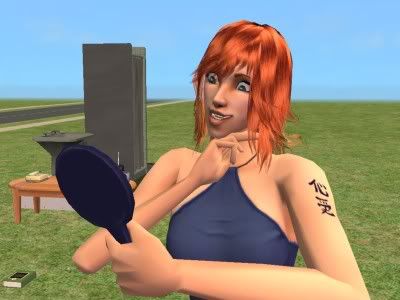 I mean... look at that smile!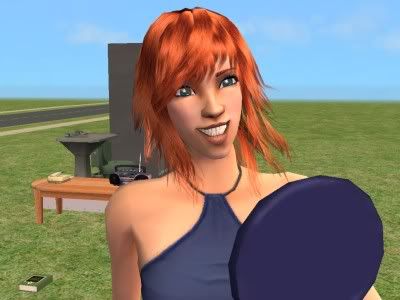 Err.. wait... Is there something in my teeth? ...Oh god..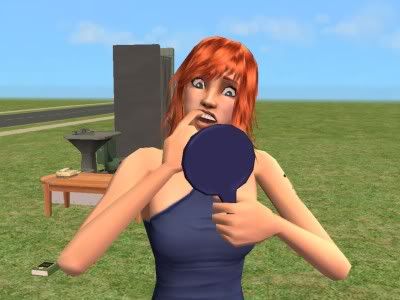 Oh, phew. Perfect. Never mind, false alarm, people!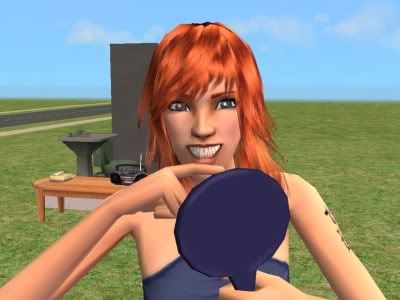 Seriously, I'll have all the guys in this town fighting over me before I'm done. You wait and see.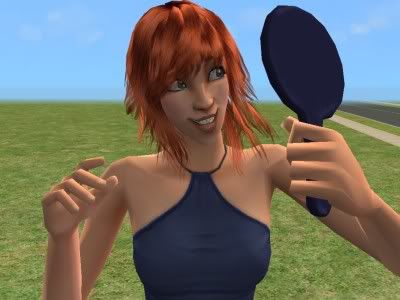 Hey, if we don't get along, I can always impress 'em with my awesome talents, right?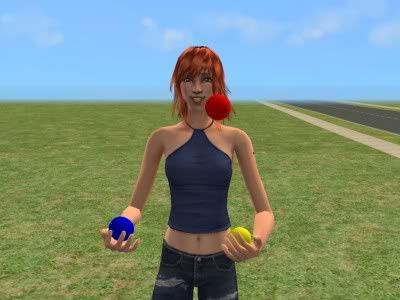 But anyway... enough about me... you're here to hear about...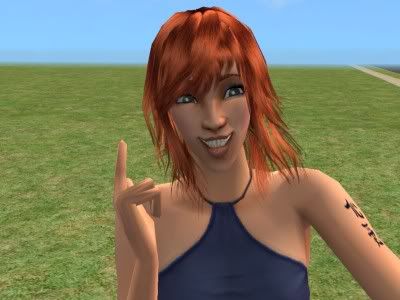 ...Me. Oh yeah. Coo'.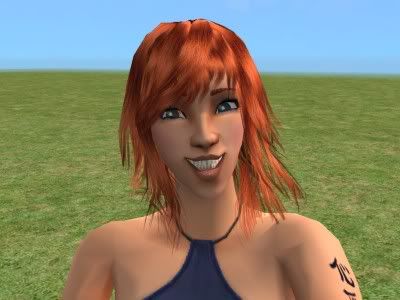 I met this guy Benjamin walking past my house... he's really doofy looking and we have no chemistry at all, but the guy totally adores me, and calls every night. Cute.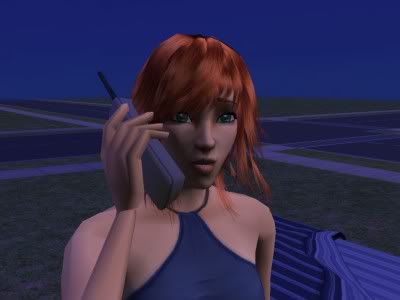 I was kinda freaked when he asked me on a date the first time, but I got over it. Nice guys are nice guys. But blonde hair is SOoooo not my thing.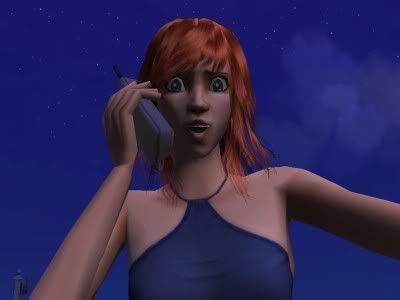 So I kinda took a spongebath in front of him... It was an accident! He came over early and I didn't think anyone was around!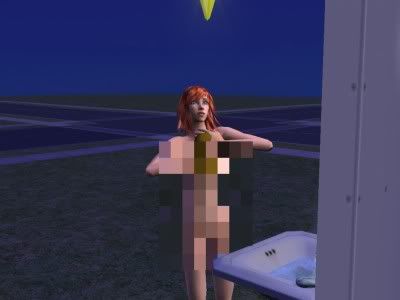 I kinda like lying under the stars, ya know?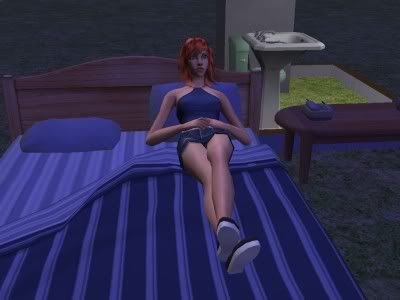 I mean.. it's comfy, cool and I can watch people go by on the street...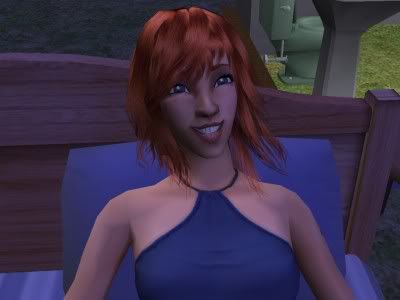 Only one little problem, I suppose, but it doesn't bug me that much...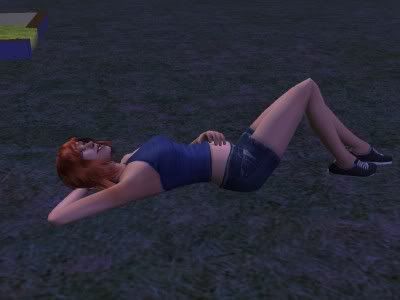 The whole underwear thing... anyone could see me! ..But then... well.. I DID take a bath in plain view of the world.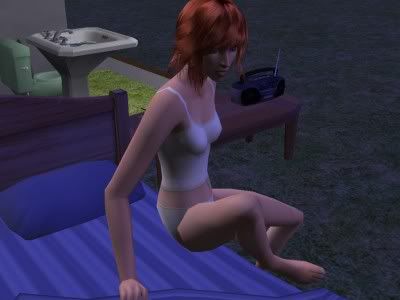 Eh, I'll get over it. We all must make sacrifices for the beautification of the neighbourhood~!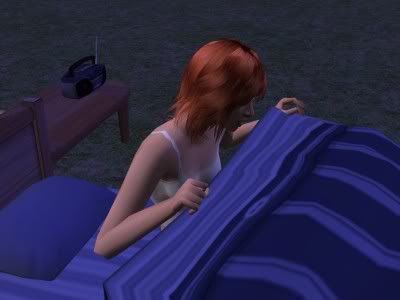 During the night, Benny left me flowers. How cute.




Another day, another date. This guy is Brandon. He's kinda cool, but he looks like he ran into a wall. ...And the dude wears a kilt! ...Maybe I should get a kilt.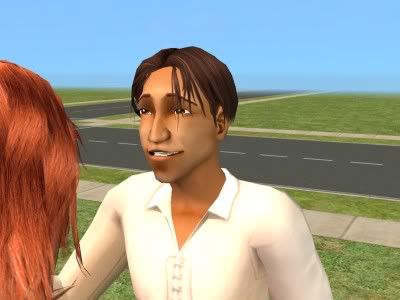 He's not so bad, really. Um.. At least from behind. Nice butt.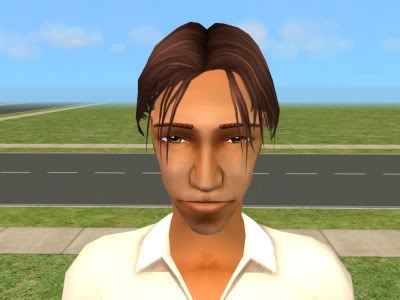 After my date with Brandon, I kinda crashed. I was pretty beat. Kept having nightmares about having a pancake face like his. But whoa.. what's this?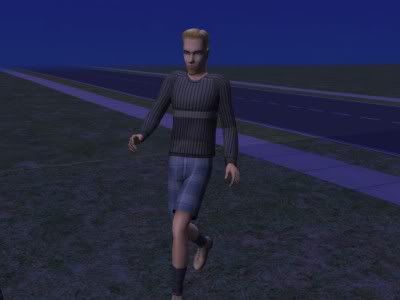 Ben came back again? With a bag? Oh crap, he's probably after my new fridge! That thing cost a fortune!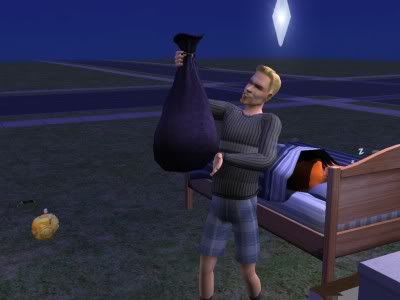 No, maybe he's here to kidnap me!! Help! Damsel in frikkin' distress here!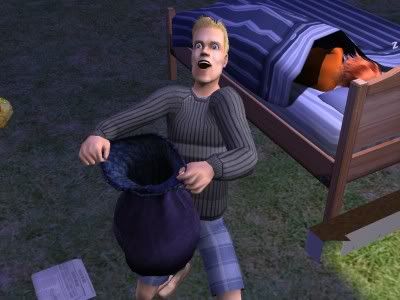 ......Whoa..... I mean.... whoa. He left me a dj booth. Um... thanks?!




And as soon as he left, Bran snuck in to leave me a rose. Oh yeah. They love me.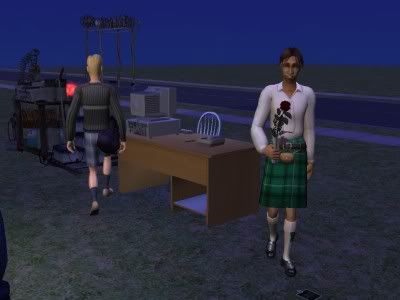 I mean... I'd totally prefer he left me a kick-ass kilt, but hey, roses are good too.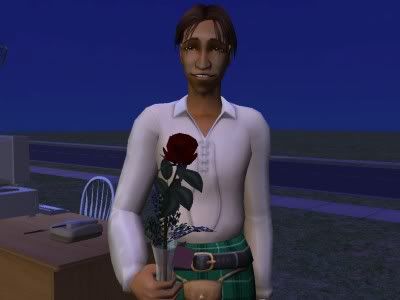 Yeah... that's not creepy. Staring at me while I sleep. Good one.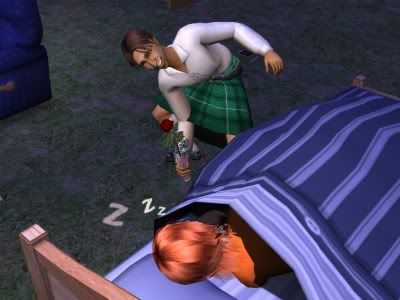 Muwaha... suckers. They swoon over me and leave me crap just because I rock.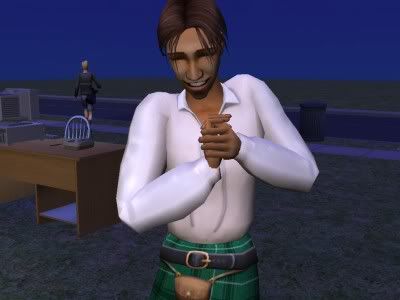 Oh, and I finally woke up. Not from hearing the guys tromping through my home, no... I had a nightmare I went broke. The horror. So I sold Ben's gift for cash.




So, The next day I got a job as a gas station attendant, after the whole golf caddy thing didn't work out.... (Stupid rich people getting struck by lightning...)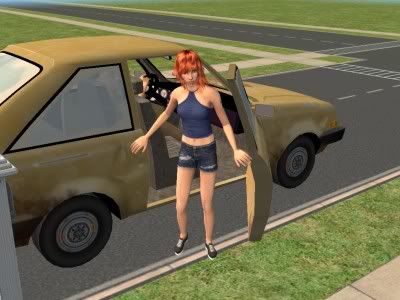 And when I got home, I had a house built. I have WALLS. And a roof. Holy crap.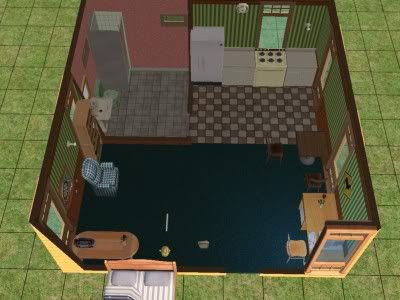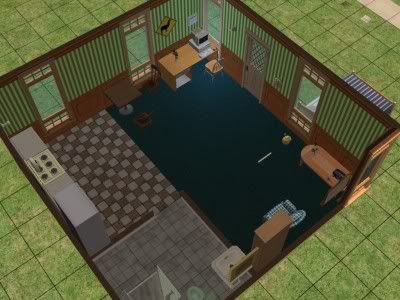 I left the bed outside, because I really like it out there. I mean.. I'll move it inside in the winter, duh... but whatever.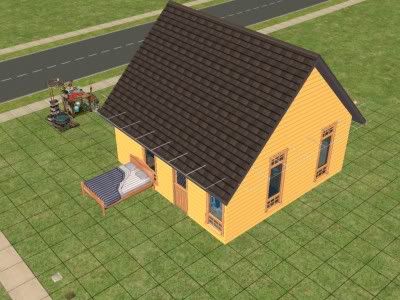 I also picked up this AWESOME doohicky. It's supposed to fill you with energy or something.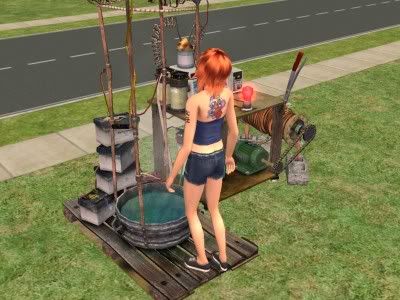 ....I likes it. YESSS~!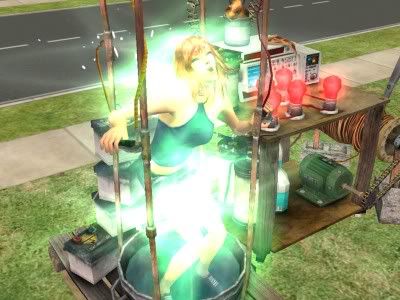 Ooooohhh... yeahhhh.... I feel GOOD!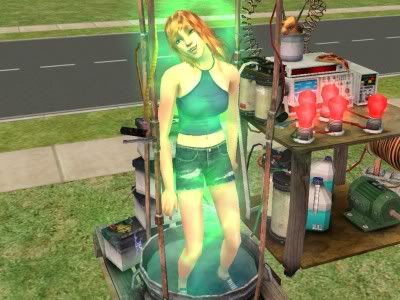 Those ads were NOT kidding. This thing makes me feel like a million simoleans.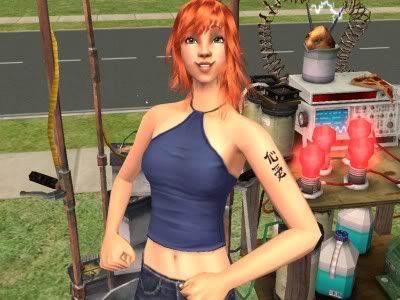 So... Something to do... I figured I'd prank call this snobby guy I met downtown, and tell him his stock crashed or something. heh heh... It was hilarious.




I mean, the guy looked at me like I was a great big turd. ME. Look at this face. Does it look turdy to you? I think not!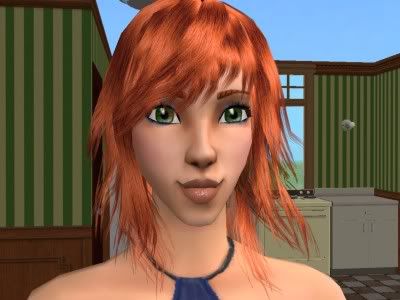 Anyway, he comes stomping over and into my house like he OWNS the place...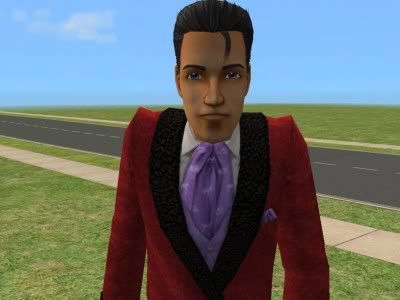 Shoves me, HARD, and puts his hands all over me like a pervert...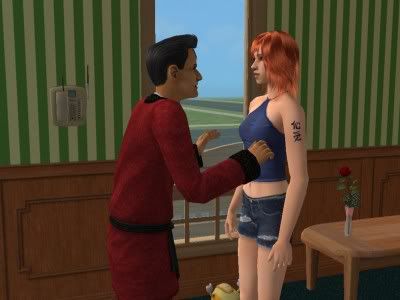 And then he freakin' yells at me!?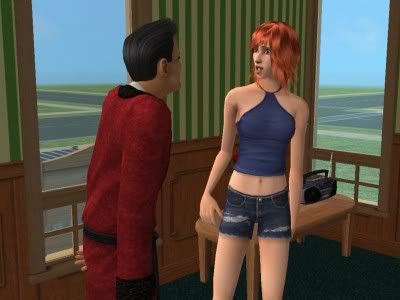 I just gave him this look like "WTF?!" and shook my head.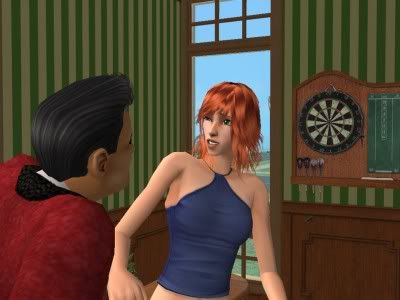 I was gonna be all cool, but then he insulted my hair. YOU DO NOT INSULT THE HAIR.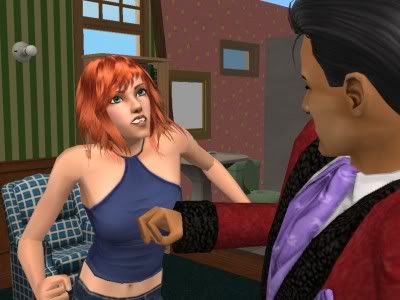 Ahem. After giving that asshat a black eye and a swift kick in the butt, I figured I'd chat online a bit with my pal Marissa about Mr. Hoity-Toity snobface... But the computer broke down. Great.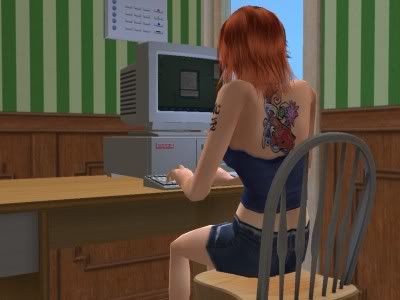 So I called Mitch over and we argued about the worst games ever. I still think he's wrong about TGP. Awesome story. And I love the characters!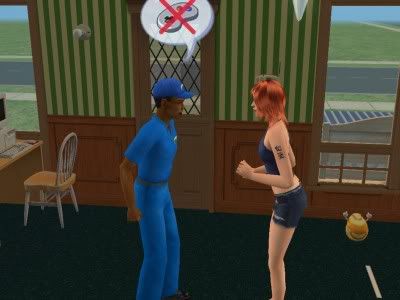 So the subject went back to Mr. Snob, and he loved hearing about how big that dork's ego was. I mean.. It's HUGE. The guy has his own area code just for his big head!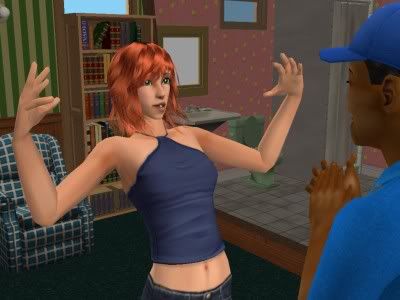 "I mean, how could the guy think I'M ugly?! When they made me, they broke the mold... no wait, they broke the WHOLE factory!"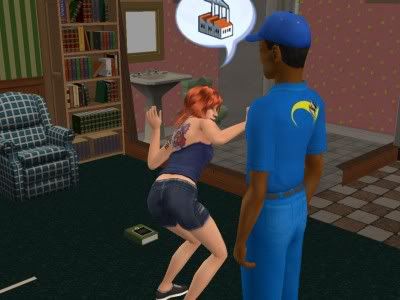 Yeah, my charm always reels 'em in. That or my great ass.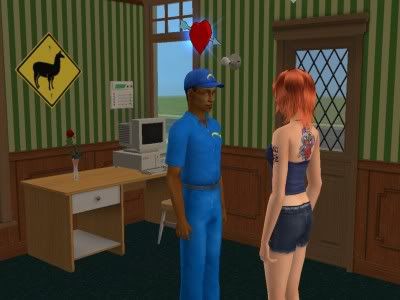 After a long day of fights and moving my furniture, this dude Kennedy Cox calls me and says he's a buddy of Bran's. He wants to hang out downtown with me, 'cuz I sound cool. Baby, I AM cool.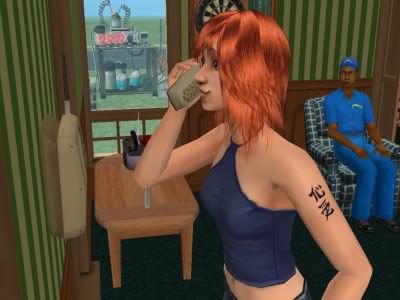 Tune in next time for more random guys giving me stuff!